UAVS 465cc 2-Stroke Engine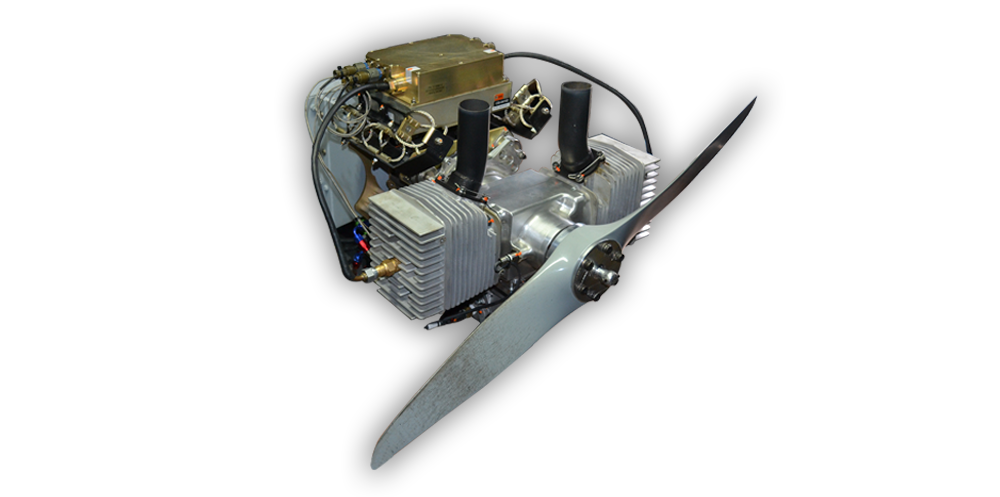 UAV Solutions, Inc. air cooled engines are designed with maximum horsepower-to-weight ratio along with a broad power curve. Advanced components, computer design and innovative technology provide outstanding fuel consumption, low maintenance and long service intervals. All engines and components are engineering and manufactured in the USA.
UAV Solutions products are export controlled and may require U.S. Government authorization prior to export or re-export.
UAVS 465cc 2-Stroke Engine
Configuration
Two cylinder two-stroke horizontally opposed cylinders
Electronic controlled ignition and Fuel Injection (ECU)
Air cooled cylinders and heads
Nickel composite coated cylinder bore
High silicon coated two ring pistons
Case reed valve induction
Three main bearing high inertia crankshaft
Oversized needle bearing connecting rods
Displacement: 465cc 68mm bore 64mm stroke-35hp
Integrated ECU ignition coil assembly with throttle body injection system
Optimized for the intended use; moderate cylinder bore and long stroke crankshaft design for maximum torque and wide power band
Customer ECU mapped to 25,000 ft. AGL
Aluminum alloy cylinders with plated bores for effective heat transfer and long wear under extreme conditions
Cylinder porting is optimized for wide power and maximum fuel economy
Ring cylinder heads (no gaskets) are removable for maintenance and use through bolted studs for proper torque loading and effective sealing
Flexible coupling arrangement at the rear of the engine is standard for alternator or accessory drive. Alternator mounting plates and isolation mounts are available