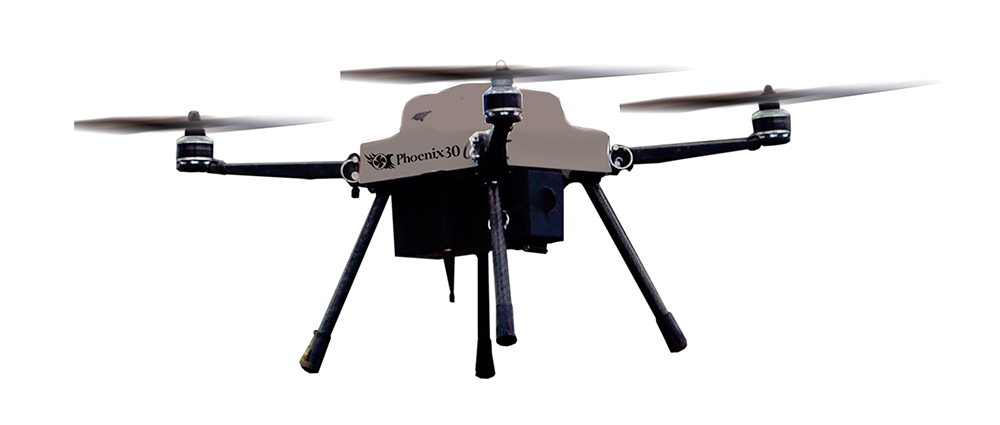 The Phoenix 30 is a VTOL Quad Rotor unmanned aerial vehicle (UAV). Ready in minutes, this intelligence; surveillance and reconnaissance vehicle weighs 10 lbs. and is ideal for military and first responders. The Phoenix 30 goes a step above the Phoenix 15 in its mission critical response performance with a pan and tilt electro-optical/ infrared (EO/IR) network/IP-based camera for easy video viewing from a UAVS ground control system (GCS), laptop or tablet.
The Phoenix 30 Air Vehicle (AV) is comprised of four key components: 1) fuselage; 2) motor booms; 3) integrated battery tray; and 4) lexan lid. The aircraft is powered by a 16,000 mAh Lithium Polymer pack assembled into an integral battery tray on the AV. The AV is equipped with one 2.4 GHz antenna to support uplink and downlink communications as well as GPS for the onboard navigation system.
Our off-the-shelf system is sold with the UAVS Dragon View combined EO/IR sensor. The Phoenix 30 can be operated by the UAVS Tactical Ground Control System or a Communications Module which can be integrated with an IP-based computer or laptop.
A comprehensive Operations and Maintenance Manual is delivered with the system which includes a maintenance schedule and a troubleshooting guide.
UAV Solutions products are export controlled and may require U.S. Government authorization prior to export or re-export.
Length x Width: 20″x20″ with foldable booms for easy transport and storage
MGTOW: 10 lbs.
Payload capacity: 2 lbs.
Endurance: 25-30 minutes
Communications: 900 MHZ for command and control and 2.4 GHz digital data link for video
Typical operating altitude: 50-500 ft. AGL; MSL to 10,000 ft.
Command and control and video communications combined on a single encrypted digital data link
Fully autonomous flight operations utilizing GPS-driven autopilot
Modular battery compartment for quick turnaround
Lightweight carbon fiber and Kevlar composite construction
Quick system unpack, assembly and deployment time
Belly-pan payload mounting