UAVS Trident TL Unmanned Aerial Vehicles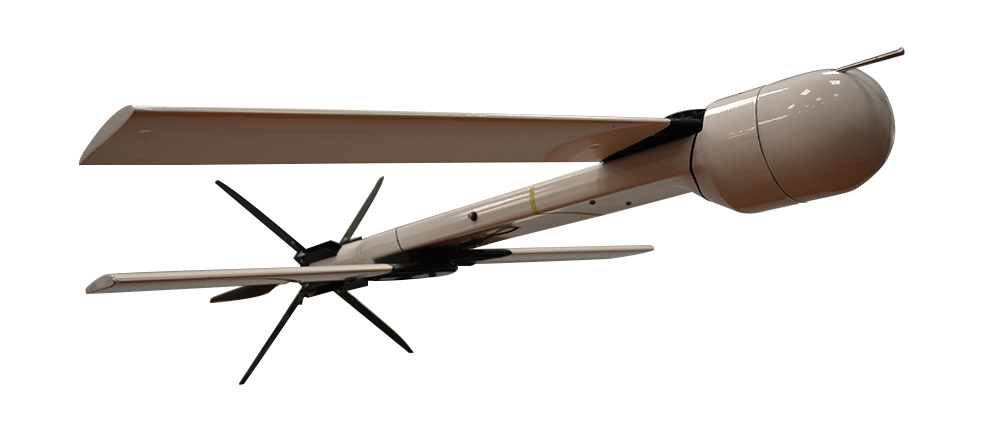 The Trident Unmanned Aerial Vehicle (UAV) is a low cost, foldable, ground- or air-launch capable vehicle. Designed for commercial and federal agency use this versatile system utilizes fully autonomous navigation for launch, data gathering and recovery. Electric propulsion provides a quiet, low vibration environment with the ability to air start. Composite construction allows for a more aerodynamic design and foldable wing sections allow for compact canister storage. Nose mounted payload bays accommodate 0.5 to 2 pounds of payload capability and can be custom manufactured to specific dimensions.
UAV Solutions ground control systems (GCS) – both the Portable GCS and Tactical GCS – can be used to operate the Trident for remote operations.
UAV Solutions products are export controlled and may require U.S. Government authorization prior to export or re-export.
UAVS Trident TL Unmanned Aerial Vehicles
Specifications – Trident TL
Length: 3′
Wingspan: 3′
MTGOW: 5 lbs.
Endurance: 25 minutes max
Payload capacity: 2 lbs
Cruise speed: 50 knots
Stall speed: 40 knots
Communications: 900 MHz, 2.4 GHz C2 and video, Iridium available
Specifications – Trident TL Micro
Length: 2′
Wingspan: 2′
MTGOW: 2 lbs.
Endurance: 20 minutes max
Payload capacity: 0.5 lbs
Cruise speed: 55 knots
Stall speed: 45 knots
Communications: 900 MHz, 2.4 GHz C2 and video
Uses: ISR, atmospheric measurements, payload delivery
Open architecture layout for payload and communication link flexibility
Foldable design for compact storage or canister deployment
Nose mounted payload volumes
Field proven avionics with thousands of hours of operation
Ground launch or air deployment options
Aircraft grade aluminum, carbon fiber and foam construction
Low cost for expendable use applications (ex. hurricane monitoring)