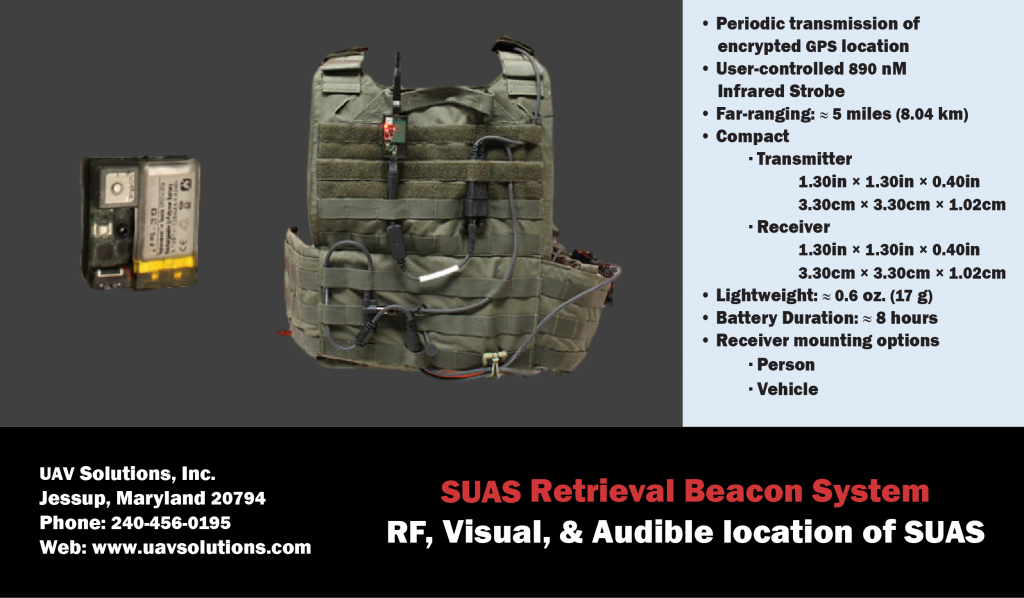 UAVS has created a premier small unmanned aerial system (SUAS) beacon recovery system. Coupling both high-quality existing and custom hardware, as well as software, UAVS and APL allow for a compact, rugged, and easy to use system that can be tailored to the demands of any mission.
The lightweight beacon (roughly 17 grams) need only be placed on the vehicle so that the GPS antenna has clear access to the sky. The receiver unit can be placed in an operator's MOLLE kit, or if desired, attached to a vehicle using the included magnetic vehicle mount. Using the included Tactical Samsung phone, the SUAS beacon can be tracked and located using the proprietary application over the course of 8 hours*. The system uses advanced AES-128 encryption to ensure communications between the beacon and receiver will not be compromised and there are sensory methods of signaling the vehicle's location: an audible buzzer or a discrete near InfraRed (NIR) strobe can be activated to allow the team to hear and/or see the SUAS.
The Beacon Kit includes a water proof hard shell, foam-lined case with 2 antennas (low/medium or high frequencies), SUAS Remote Beacon Unit (05A-0338-00/air side), Base Station Unit (05A-0337-00/ground side), Tactical Samsung phone with PALS mount, Black Diamond Assaulter 2-port USB hub with cabling for battery (bat not included), vehicle mount, and USB charging cables.
Supplementary remote beacons can be purchased separately for use with additional vehicles.
Current Pricing:
05A-0339-00 SUAS Full Beacon Kit

Qty. (10) $13,134.49 Each
Qty. (100) $12,477.79 Each

05A-0338-00 SUAS Remote Beacon

Qty. (10) $2,684.93 Each
Qty. (100) $2,362.74 Each

05A-0337-00 Base Station Beacon

Qty. (10) $2,784.93 Each
Qty. (100) $2,450.73 Each
UAV Solutions products are export controlled and may require U.S. Government authorization prior to export or re-export.
All values approximate
Weight
Transmitter: 0.60 oz (17.00 g)
Receiver: 0.48 oz (13.61 g)
Tactical Samsung phone: 5.70 oz (161.6 g)
Black Diamond 2-port Hub: 4.00 oz. (114.00 g)
Length
Transmitter

With antenna: 7.30 in (18.54 cm)
Without antenna: 1.30 in (3.30 cm)

Receiver

Low & Mid Band Antenna: 11.10 in (28.20 cm)
High Band Antenna: 5.10 in (13.00 cm)

Tactical Samsung phone: 6.00 in (15.24 cm)
Black Diamond 2-port Hub: 19.35 in (49.15 cm)
Antenna

Low+Mid bands: 9.00 in (22.86 cm)
High bands: 3.00 in (7.62 cm)
Range: 5 miles* (8 km)
Battery Duration: 8 hours**
Frequency Range1 MHz intervals
Low: 137–175 Mhz
Medium: 410–525 Mhz
High: 862–999 Mhz
RF Transmission Bandwidth: 125 Khz
RF Output Power: 16 dBm
*Line of sight dependent
**When using GPS update rate of 30 seconds
download specification sheet
Beacon_v3.5-W